Discover the Best Cozumel Food
A Culinary Adventure at Bajau
At Bajau, we take pride in offering a unique dining experience that combines the finest seafood and steaks with Asian-inspired flavors. Located in the heart of Cozumel, Mexico, our restaurant is the perfect destination for foodies looking to embark on a culinary adventure. Allow us to introduce you to some of our signature dishes, crafted with fresh ingredients and a passion for flavor.
Begin your journey with our enticing ceviches and tiraditos, like the Tuna Toast, Salmon Toast, or the Balam Tiradito, which features smoked tuna served over a yellow pepper sauce. Each dish is beautifully presented and bursting with flavor, making them the ideal starters for your dining experience.
Indulge in our selection of mouthwatering soups, noodles, and salads, including the tableside-prepared Cesar Salad, Bajau Salad, and the hearty Seafood Soup, which offers a Mexican-Oriental fusion of flavors. For those craving something a little more filling, our Crispy Octopus, Pork Belly, and delectable empanadas are sure to satisfy.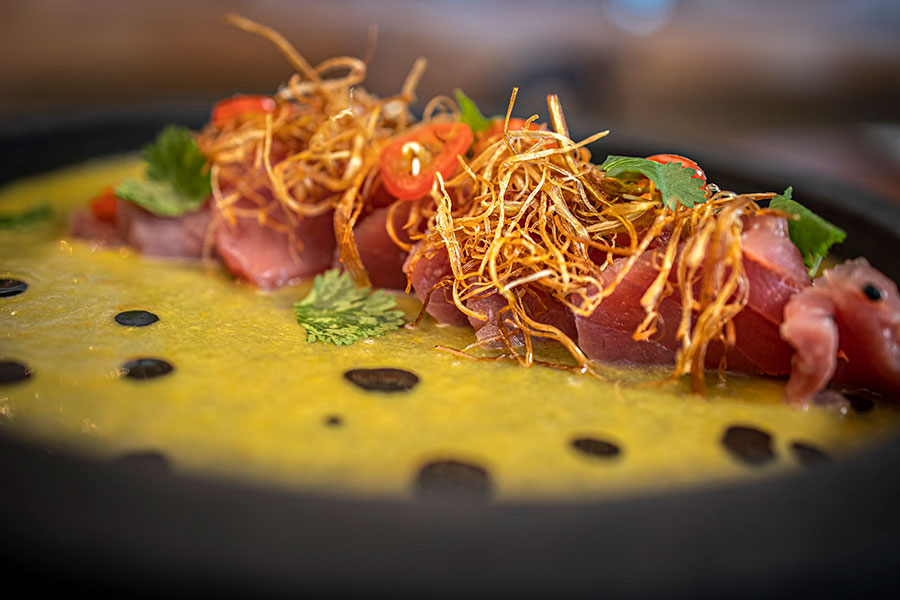 Treat yourself to our delicious tacos, such as the Salmon Tacos marinated in local chili paste, Grilled Sirloin Tacos, or Cheese Shrimp Tacos served with leek fondue and melted cheese. Our selection of gourmet burgers, like the Tuna Steak Burger and Rib Eye Burger, are perfect for those craving an indulgent, satisfying meal.
From the charcoal grill, delight in our Mussels in Sake and Butter Sauce, Cozumel Grilled Fish, and Grilled Honey Salmon. Our selection of high-choice steaks, including the Mignon, Flat Iron, and Tomahawk, are cooked to perfection and sure to impress any steak lover.
For vegetarians and plant-based diners, our Chickpea Tostadas, Mushroom Ceviche, and Tinga-Style Carrot Tacos offer a delightful alternative without compromising on flavor. Complement your meal with our selection of delicious side dishes
Cocinar es como amar:
Hay que hacerlo sin miedo o mejor no intentarlo.
Nuestros clientes comentan
Síguenos para enterarte de nuestras novedades